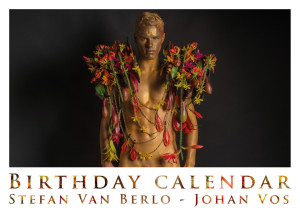 Birthday Calendar
Stefan Van Berlo – Johan Vos
Stefan Van Berlo, a young and ambitious floral artist (with several national and international awards) who likes to take on a challenge, turns 35 this year. It seemed the perfect moment to have a look back at his achievements.
Johan Vos, a man with a passion for photography, especially the photography of male models. What once started out as a hobby, grew into a full time job next to his job as an engineer. This is only possible if you passionately live for your profession.
Two passionate professionals came together to find a challenge in combining both of their passions: floral creations and the male body.
In a project that combines these passions, they started working on photographing floral arrangements draped on nude male models. Taking several months to do the several shoots, they finally came up with 13 great pictures which they turned into a Birthday Calendar. Beside those 13 pictures they got a extra series of beautiful pictures which will be used to promote the calendar. Some are even for sale as wall decorations.
The calendar will be released in September 2018 and presented on the floral exhibition Fleuramour, held in Alden Biesen (Belgium) from September 21 untill 24. Pre sale of the calendar will be possible from July 1st.
Of course a project like this would not be possible without great and enthousiastic models. For that reason Stefan and Johan would like to thank the models for their cooperation in this project: Lars Van Regenmortel, Andy Kiangebeni, Nicolas van den Berghe, Thibaut Claeys, Tiemen Bormans en Ilias Janssens. Thank you for your guts, strength and frailty, but also for your passion and willingness to show your most fragile, pure side.
Would you like a preview of what you can expect? Have a look at this video.
Practical info:
Format: hanging calendar A3 (420 x 297 mm), paper: 250g/m², four-color print
Cost: €20,- excluding transportation costs, collection possible at the sales points.
Transport costs EU: €15,- for up to 3 pieces (The calendar is packed in a sturdy box so no damage can occur)
When purchasing larger quantities please contact us for the conditions.
Online purchases are possible on these websites:
Sales points:
Bloem-illusie – Pastoor Coplaan 25 – 2070 Zwijndrecht – 03/296.37.25 – info@bloem-illusie.be – contact us
Photography Vos – Lindenhof 4/1 – 2440 Geel – 0494/46.54.30 – sayhello@photographyvos.com – contact us